Paul Murphy III
President, Chief Executive Officer and Director
Mr. Murphy has served on the Red Robin Board of Directors since his appointment as President and Chief Executive Officer in October 2019. Mr. Murphy is a highly accomplished restaurant executive with more than 20 years of experience in operational and executive leadership in the restaurant industry, including leading companies through successful business transformations. Prior to joining Red Robin, he served as Executive Chairman of Noodles & Company from 2017 to 2019, where he was responsible for 459 restaurants across 29 states. In this role, he led a business turnaround that delivered four consecutive quarters of positive comparable restaurant sales growth on revenues of $457 million. From 2009 to 2017, he served as Chief Executive Officer and a member of the board of directors of Del Taco Restaurants, Inc., and as President from 2009 to 2016, where he was responsible for the financial and operational performance of 543 company-operated and franchised restaurants with revenues of $470 million. During his tenure, he led a successful brand repositioning that resulted in 17 consecutive quarters of company-operated comparable restaurant sales growth and 11 consecutive quarters of system-wide comparable restaurant sales growth. Mr. Murphy also took the company public in 2015. From 1996 to 2008, Mr. Murphy held various leadership positions at Einstein Noah Restaurant Group, Inc. , including as President, Chief Executive Officer, and a member of the board of directors from 2003 to 2008.. During his tenure as President and CEO of Einstein Noah, Mr. Murphy was responsible for 593 company-operated and franchised restaurants with revenues of $390 million.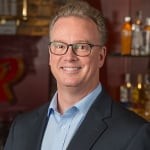 Michael Buchmeier
Senior Vice President and Chief Operating Officer
Michael Buchmeier leads the Operations team at Red Robin and has overall responsibility for disciplines that include Operational Excellence, Field Operations, Restaurant P&L and Service Model.
Over the past 30+ years and two tenures with Red Robin, Michael has held roles of increasing responsibility from restaurant level leadership, multi-unit leadership, Director of Operations and Chief People Officer. Outside of Red Robin, Michael also served in leadership positions at other companies and owned and operated another restaurant concept.
Michael attended the University of Minnesota in Minneapolis, majoring in English. He enjoys travel and is an avid reader of fiction and non-fiction.
Michael's favorite Red Robin burger is The Madlove Burger.
Lynn Schweinfurth
Executive Vice President and Chief Financial Officer
Lynn Schweinfurth is responsible for leading and maximizing the capabilities of all Red Robin financial disciplines including accounting, strategic and financial planning, operations analysis, treasury and investor relations, as well as optimizing the Company's supply chain function.
Lynn joined the Red Robin leadership team in January 2019 and has more than 25 years of experience in corporate finance, with over two decades of experience in the restaurant industry. Prior to joining Red Robin, she served in a variety of senior finance leadership roles for Fiesta Restaurant Group, Inc., Brinker International, Inc., Yum Brands, Inc. and PepsiCo, Inc.
Lynn earned a Bachelor of Arts degree in economics from the University of California at Los Angeles and a Master of Business Administration degree with concentrations in finance, accounting and marketing from the University of Chicago. Lynn and her husband, Tommy, are avid fans of a wide range of sports (with strong loyalties to college and pro teams on both the East and West coasts). They enjoy travel, cooking and hiking, and are proud parents of a talented daughter pursuing her degree in art from the University of Dundee in Scotland.
Lynn's favorite Red Robin burger is the Sautéed 'Shroom burger.
Jonathan Muhtar
Executive Vice President and Chief Concept Officer
Jonathan Muhtar is responsible for leading all aspects of concept development and brand innovation to transform and revolutionize Red Robin beyond the casual dining restaurant we know today. He leads Red Robin teams focused on all things innovation, including kitchen transformation, future prototype development and rapid piloting of new service and business models, as well as overseeing menu and marketing. Jonathan brings to Red Robin more than 20 years of experience in branding, marketing and product innovation.
Before joining Red Robin, Jonathan served as Executive Vice President and Chief Marketing Officer for Captain D's restaurant chain where he built and led a team that helped revitalize the brand and drive significant improvements in same store sales and unit volumes. He previously held global marketing, new concept strategy and product marketing roles during a highly successful career at Burger King and served as a consultant at Swander Pace & Company. As an entrepreneur he owned and operated the first Smoothie King franchise in South Florida.
Jonathan holds a Master of Business Administration degree from Northwestern University's Kellogg School of Management and a Bachelor of Arts degree in political science from Tulane University. He and his wife, Camille, include raising their two daughters and son among their many passions.
Jonathan's favorite Red Robin burger is The Madlove Burger.
Michael Kaplan
Executive Vice President and Chief Legal Officer
Michael Kaplan oversees all legal matters for Red Robin, including risk management, compliance and corporate governance. Michael brings to Red Robin more than 20 years of professional legal experience, with a career that includes strategic legal leadership in a variety of industries including defense and aerospace, electronics manufacturing and consumer products.
Before joining Red Robin, Michael served as Senior Vice President and General Counsel, as well as Chief Security Officer and Corporate Secretary, for StandardAero, a leading provider of maintenance, repair and overhaul services to the aerospace industry, where he led global legal strategy, compliance and corporate governance. Prior to that, he was a partner with the international law firm of Greenberg Traurig, L.L.P. where he focused on corporate law and served as outside general counsel to public companies. Michael's legal career also includes serving as Executive Vice President, General Counsel and Corporate Secretary for Styling Technology Corporation, a publicly held consumer products company specializing in professional salon product brand acquisitions.
Michael earned his Law degree from Stanford Law School and a Bachelor of Arts degree in economics and government from the College of William & Mary. Michael and his wife, Ricki, relocated to Colorado with their three children and two dogs. Michael enjoys spending time with his family, grilling, wine and NFL football.
His favorite Red Robin burger is the Grilled Turkey burger.
Darla Morse
Executive Vice President and Chief Information Officer
Darla Morse is responsible for leading the company's enterprise technology strategy and implementation to include digital platforms, corporate and restaurant systems, data management, security and infrastructure. She will leverage technology innovation enabling business strategies that elevate guest engagement, operational execution and brand affinity.
Darla joins Red Robin with more than 25 years of experience in IT, having held senior roles at Walt Disney World, SeaWorld, and Inspire Brands. Most recently, she served as Chief Information Officer at CKE Restaurants Holdings, where she led all technology and strategy functions for 4,000 company and franchised Carl's Jr. and Hardee's restaurants operating in 45 states and 42 countries. Prior to CKE, she held the position of Chief Information Officer and led technology strategy for its portfolio of over 7,000 Restaurants.
Ms. Morse earned a Masters of Business Administration from Webster University with concentrations in Technology and a Bachelor of Science from Florida Southern College.
Darla's favorite Red Robin burger is the Guacamole Bacon Burger.
Wayne Davis
Senior Vice President and Chief People Officer
Wayne Davis has developed and led human resources teams for several fortune 500 companies including Comcast NBCU, YRC Worldwide, American Greetings, Northrup Grumman, Baxter International and Frito-Lay. In many of his roles he has overseen the delivery of a comprehensive suite of HR solutions which include talent acquisition, organizational design, employee engagement, total rewards, succession planning, employee development and workforce analytics.
In his most previous role he developed and delivered a comprehensive International Human Resources strategy for a 2000+ employee population across 16 international locations. He engaged with business and human resources leaders across five business units in the UK, China, France, Germany, Netherlands, India, Ireland, and Canada.
Wayne also implemented a human resources strategy and service delivery infrastructure for a 21,000-employee segment of Comcast Cable and led a field HR team of approximately 150 professionals across 10 regional locations. Wayne earned a reputation for operational excellence, successfully piloting the HR transformation initiative for the company. He also demonstrated a clear vision of a "great place to work" environment and created action plans to make that vision a reality.
A Human Resources veteran with more than 30 years of experience, Wayne served as the Corporate Vice President for Field Human Resources at YRC Worldwide. In that role, he was responsible for providing services to six separate operating companies which collectively generated more than $8 billion in annual revenue. Prior to YRC, Wayne served as the Executive Director for Training and Development at American Greetings, where he designed and launched a new corporate university, designed a leadership development program for middle managers and launched a talent management initiative aimed at developing future leaders. In addition, Wayne has served as the Vice President for Human Resources at Cuyahoga Community College as well as in a variety of Human Resources roles at TRW. While at TRW, Wayne led the effort to recruit 7,000 part time employees for the year 2000 Census and was the recipient of the TRW Chairman's Award for Innovation. Wayne has also served on the HR team at Baxter International and began his HR career at Frito-Lay. Wayne holds a BA from the University of Cincinnati and an MBA from Indiana University. He enjoys travel, reading, community service, and golf.
Wayne's favorite Red Robin burger is the Impossible Cheeseburger!