Latest Quarterly Results
FY 2022
Fiscal Year Ended December 25, 2022
$290.1 M
Total revenues are $290.1 million, an increase of 2.4% compared to 2021
2.5%
Comparable restaurant revenue increased 2.5%
8th
Eighth consecutive quarter of positive comparable restaurant revenue growth
Source: Q4 2022 Earnings Release
For complete information regarding our financials, see our periodic filings
Latest Annual Filing
For Fiscal Year Ending Dec 25, 2022
Serving Up Burgers and Fun Since 1969
Red Robin Gourmet Burgers, Inc. is a casual dining restaurant chain founded in 1969 that operates through its wholly-owned subsidiary, Red Robin International, Inc., and under the trade name, Red Robin Gourmet Burgers and Brews. We believe nothing brings people together like burgers and fun around our table, and no one makes moments of connection over craveable food more memorable than Red Robin. We serve a variety of burgers and mainstream favorites to Guests of all ages in a casual, playful atmosphere. In addition to our many burger offerings, Red Robin serves a wide array of salads, appetizers, entrees, desserts, signature beverages and Donatos® pizza at select locations. It's now easy to enjoy Red Robin anywhere with online ordering available for to-go, delivery and catering. There are more than 525 Red Robin restaurants across the United States and Canada, including those operating under franchise agreements. Red Robin… YUMMM®
511
Restaurants as of the end of our fiscal year on December 25, 2022, there were 511 Red Robin restaurants, of which 414 were Company-owned and 97 were operated by franchisees. Our franchisees are independent organizations to whom we provide certain support. As of December 25, 2022, there were Red Robin restaurants in 38 states and one Canadian province.
97
Franchises operating in 38 states and British Columbia, Canada.
Source
As of December 25, 2022 • 10-K 2022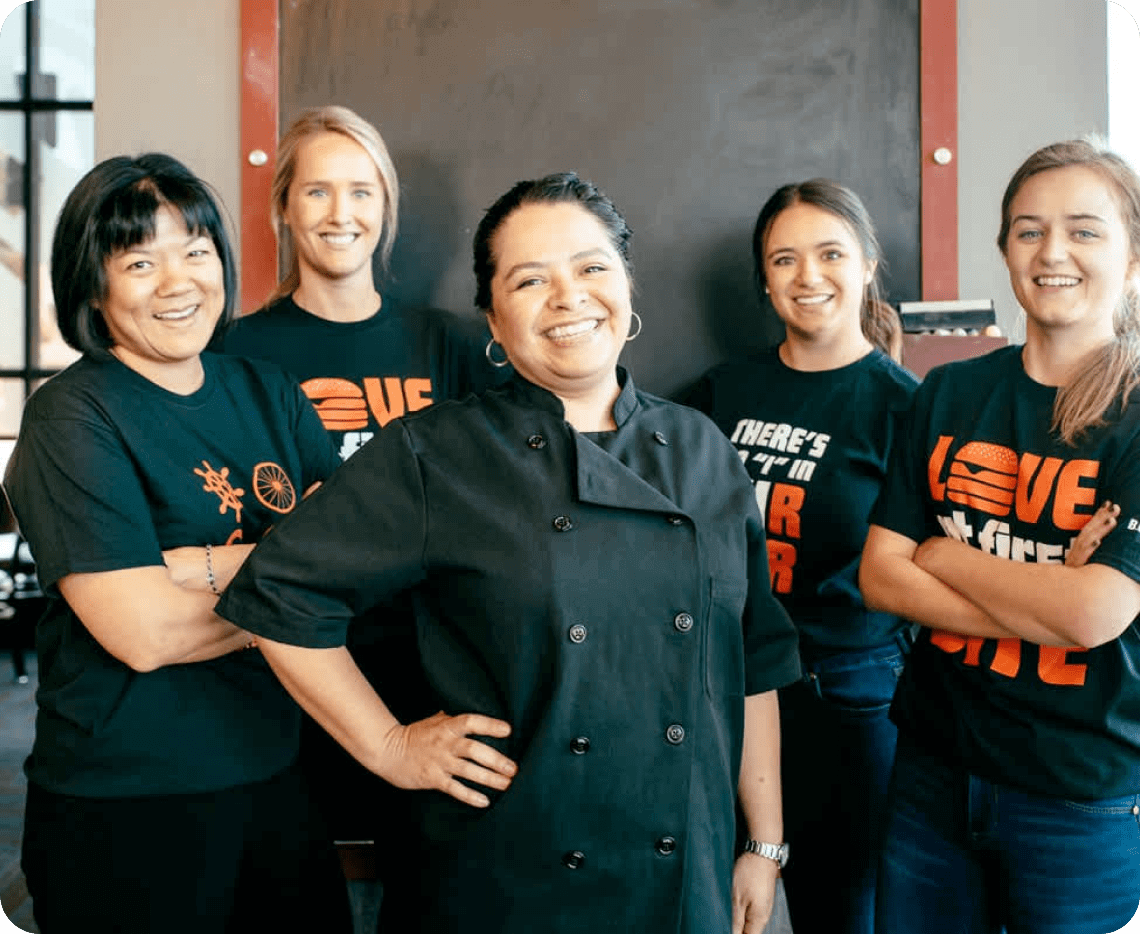 Gathering at the Table to Respect Our People, World and Company
At Red Robin, we believe in extraordinary people and unwavering integrity, these are part of our B.U.R.G.E.R. values. We recognize each individual is unique and different and want to create a gathering place where everyone feels welcomed and supported. We also aim to support fair animal welfare and farming protocols as well as keep the integrity of doing business right. These are the foundations of our environmental, social and governance initiatives.
Learn About Our ESG Programs
Investor Contact Information
Company
Red Robin Gourmet Burgers, Inc.
10000 E. Geddes Avenue, Suite 500
Englewood, CO 80112
Transfer Agent
American Stock Transfer & Trust Co.
6201 15th Avenue
Brooklyn, NY 11219
T: 800-937-5449